ARAS: Aged Rights Advocacy Service (South Australia)
"For the Rights of Older People"
The Aged Rights Advocacy Service Inc (ARAS) is a not-for-profit community based organisation, providing advocacy support since 1990.
It is an independent, rights based organisation that aims to promote and protect the rights and wellbeing of older people, through the provision of information, education, support and representation.
The Aged Rights Advocacy Service is commonly known as ARAS and offers a free, statewide and confidential advocacy service.
CD's for people who are Vision and/or Print impaired are now available. Click here to view them.
Advocacy for Residents of Retirement Villages A retirement village residents' advocacy service was launched in late 2014 that aims to provide support to residents with regard to issues which relate to their residency. The advocate aims to:
1) Provide information about rights and entitlements relating to residency of Retirement Villages.
2) Provide advocacy support, assistance or representation when individual resident and/or groups of residents need to: · Contact an administering authority · Contact OFTA · Attend Residential Tenancy Tribunal or South Australian Civil and Administering tribunal.
MEDIA RELEASES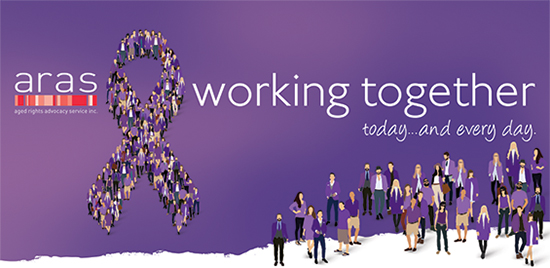 Working together today...and every day.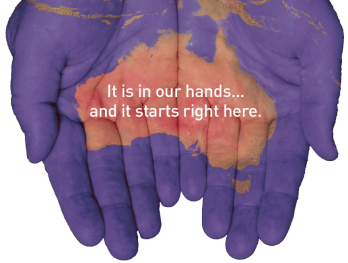 Elder Abuse can be Stopped
Office for the Ageing, SA Health has launched a media campaign to safeguard the rights of older people and increase awareness of Elder Abuse by helping the South Australian community to:
* Recognise the signs of Elder Abuse
* Know where to go for support and information.
Elder Abuse is an act that causes deliberate or unintended harm to an older person, from a person they know and trust. Around one in 20 older Australians experiences some form of abuse from someone they trust, who is often a member of their own family. This abuse can be financial, emotional, physical and even sexual. Over the past five years, Elder Abuse has most commonly included financial and emotional abuse and in 80 per cent of cases the abuse was carried out by a family member.
Recognise the signs and help put an end to Elder Abuse - click here or visit www.sahealth.sa.gov.au/stopelderabuse for more information. Take action if you suspect abuse is occurring or you want to check in with your own experiences. Call the SA Elder Abuse Prevention Phone Line on 1800 372 310.
The campaign is a key action from the Strategy to Safeguard the Rights of Older South Australians, Action Plan 2015-2021.

New DVDs produced by ARAS with support from
Office for the Ageing SA Health
Living a Positive Life. Click here to view.
Aboriginal Elders - Living a Positive Life. Click here.

These DVDs encourage older people to engage with their commmunities and promote strong community connections. If you are working with older people, you can use these DVDs as an educational tool and engage and create conversations about the scenarios.
A Z Card Pocket Guide is being developed to be provided to particpants so they have a product to reinforce the messages of the DVDs. The Z Card will feature still shots from the DVDs highlighting connecting to community - watch this space.
Upcoming Training & Workshops: (Don't miss out, numbers are limited)
Abuse Prevention 'Train the Trainer' Session: Book now, click here.
Wednesday 19 October, 2016: 9.30am - 12.30pm
Responding to Elder Abuse Workshop: Book now, click here.
Wednesday 19 October, 2016: 1.00pm - 4.30pm
Information & Education sessions
To see the complete range of Information and Education sessions click here.

Please be aware that this site may contain the names and/or images of deceased Aboriginal people. ARAS acknowledges that to some Aboriginal communities, it is distressing to show images and mention names of people who have died.
Recent Publications