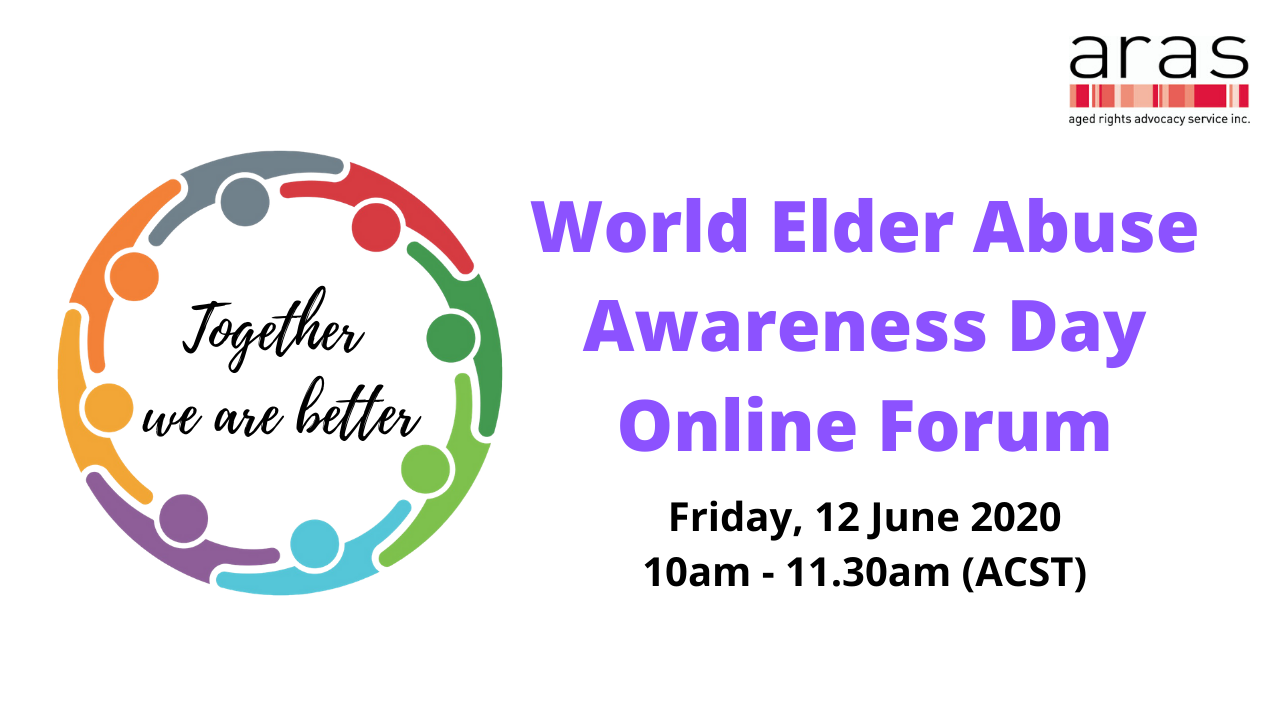 About this event
In many parts of the world, in both developed and developing countries, elder abuse is both underestimated and ignored by societies.
According to the World Health Organization, around 1 in 6 people 60 years and older experienced some form of abuse in community settings during the past year. Only 1 in 24 cases of elder abuse is reported, in part, because older people are often afraid to report instances of abuse to family, friends, or the authorities. There is a likelihood that COVID-19 may have increased the gap, with older people isolating at home with family or carers, increasing the exposure to abuse.
The purpose of World Elder Abuse Awareness Day Forum on June 12 is to encourage communities to recognise and respond to the issues concerning abuse of older people and for society to create policies that protect the rights of older people. Older people are valuable and productive citizens and are entitled to be treated with dignity and respect.
We can all do our part to improve the overall wellbeing of older Australians, particularly in our current COVID-19 environment. The support of family, friends and community services can assist an older person to retain control of their life, enhance their wellbeing and help them to maintain their independence, no matter where they live. Through working together, we can also ensure older people are aware of the supports available and how to access them.
Together we are better!
Together we are better in supporting older Australians who are experiencing abuse
Together we are better in safeguarding older Australians from abuse
Together we are better in providing a supportive environment so that Australians have longer, healthier and more productive lives
Together we are better in developing new models of care to keep older Australians at the centre of innovation.
Panellists:
Hon Dr Kay Patterson AO, Age Discrimination Commissioner Australian Human Rights Commission
Janet Anderson, Aged Care Quality and Safety Commissioner, Aged Care Quality and Safety Commission
Carolanne Barkla, Chief Executive, Aged Rights Advocacy Service
Geoff Rowe, Chief Executive, Aged and Disability Advocacy Australia
Cassie Mason, Director, Office for Ageing Well, SA Health
Our WEAAD online forum will focus on how government agencies, health and allied health professionals, service providers and advocacy groups can work together to deliver care and support services to older Australians, with quality and compassion.
Who should participate in the WEAAD online forum?
Aged care and community service providers
Community members
Law enforcement workers
Government – Local, State/Territory and Commonwealth
Researchers
Tertiary students
Education and training organisations
Health and allied health professionals
The Q&A session with the panellists after their presentations will be an opportunity for you to get answers to the important questions you have.
Have a question for the panel?
You can email your question(s) ahead of the forum to events@agedrights.asn.au.
Other information
This forum will be run through Zoom.
This forum will be recorded, and then available on our website www.sa.agedrights.asn.au.
To receive a link to the recording shortly after the forum ends, register for the forum(even if you can't attend it live).
If you have any questions regarding the forum, please contact ARAS on (08) 8232 5377 or events@agedrights.asn.au.
Register for this free event here - https://www.eventbrite.com.au/e/world-elder-abuse-awareness-day-online-forum-tickets-105685833172
Contact
Aged Rights Advocacy Service Inc.