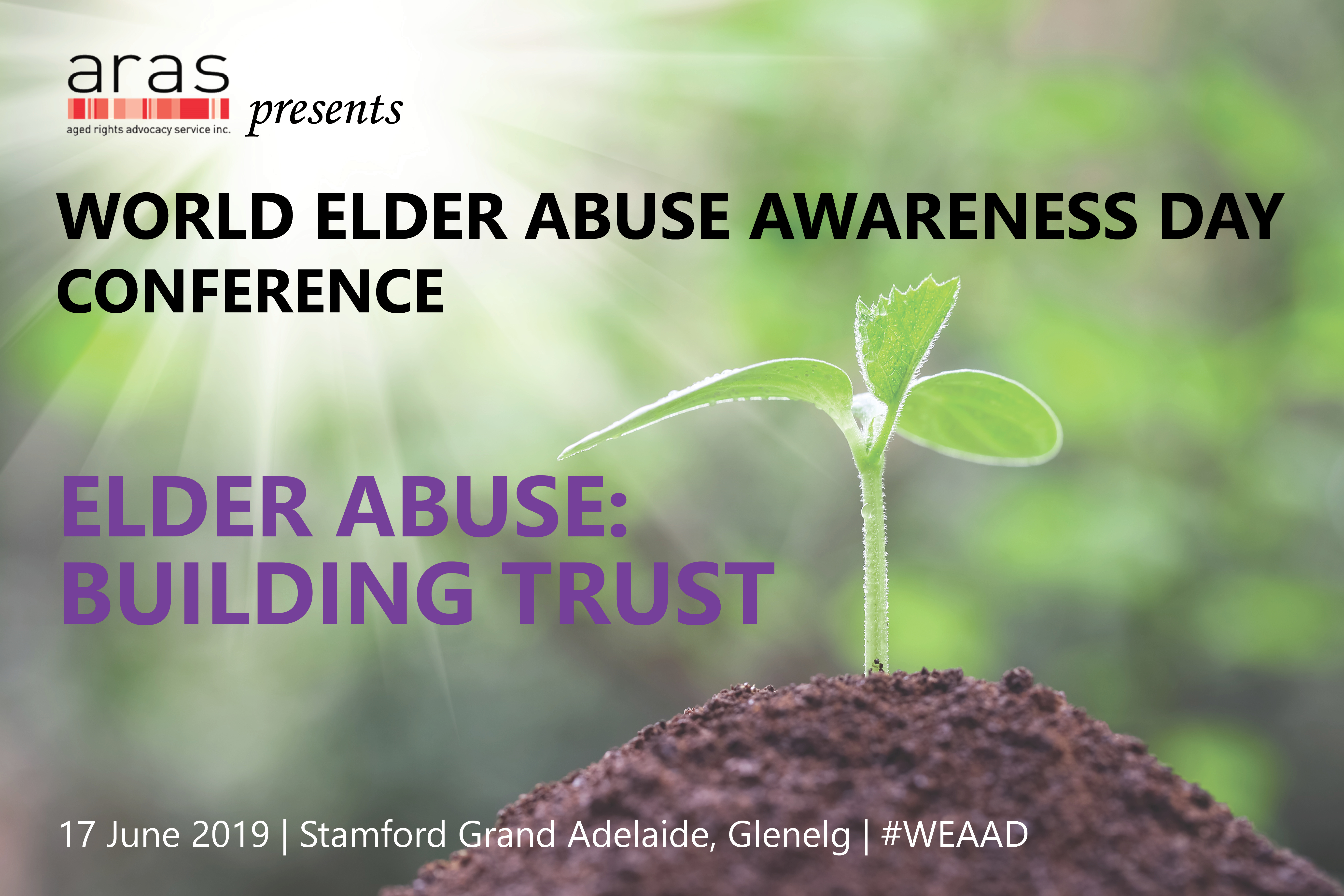 Aged Rights Advocacy Services (ARAS) is proud to present its 14th World Elder Abuse Awareness Day (WEAAD) Conference 'Elder Abuse: Building Trust' on Monday 17th June 2019 at the Stamford Grand Adelaide, Glenelg, South Australia.
ARAS has raised awareness about elder abuse through its annual state WEAAD Conference since 2006 and also hosted the 2013 National WEAAD Conference in Adelaide.
Our vision is a community in which all older people are valued and respected. The conference theme 'building trust' includes our values of integrity, inclusiveness, justice and respect. In the current rapidly evolving area of elder abuse, the conference brings together key stakeholders to focus on the latest information, actions and how you can be an active participant within your community.
Approximately 200 people participate in the annual Conference which has consistently attracted high praise for its relevance and interesting subject matter and the calibre of its national and international speakers.
Who will attend:
The Conference will bring together:
Researchers
Aged care and community service providers
Key stakeholders
Community members
Law enforcement workers
Government - local, State/Territory and Commonwealth
Tertiary students
Education and training organisations
Health and allied health professionals
Sponsorship
Your organisation has an opportunity to support the WEAAD Conference by:
Contributing funds to the Conference through a selection of sponsorship packages
Being an Exhibitor at the Conference
Negotiating a package to suit your organisation
Sponsorship Benefits
The Conference will provide Sponsors with:
Media exposure before, during and after the Conference, within South Australia and nationally
Valuable networking opportunities with a range of service providers, aged care professionals and experts, key stakeholders, government and policy makers from South Australia and interstate, and the opportunity to create a prominent profile with these agencies
The opportunity to enhance their skills and knowledge of elder abuse issues and elder abuse prevention when attending the Conference
Free registration for the Conference
Sponsors will have their promotional material displayed throughout the Conference and on all WEAAD Conference promotions before and after the Conference
Sponsors' logos will be included in the Conference Program, on screen at the Conference and displayed on the delegates' tables
The opportunity to demonstrate their involvement, ongoing commitment and support to addressing elder abuse
Opportunities to develop contact lists by subscriptions to their publications, running competitions to obtain contact details on entry forms, or holding a business card draw for a prize to be donated by the Sponsor
Conference bag inserts of Sponsors' promotional items.
Sign up today!
Click here to download the Sponsorship Prospectus
Click here to register as a Sponsor
Click here to register for the Conference
Click here to download Save the Date Flyer
Contact
Aged Rights Advocacy Service Inc.